Swipe to the left
April 2016
After a long winter, millions with physical disabilities or long-term illnesses are eager to get out of town -- or the country. With just a little planning, bringing along an oxygen therapy device, special medicine or mobility aid is a breeze. Planning will also make your trip that much more enjoyable because you will have the same wellness and mobility that you do at home.
First Things First: Know Before You Go
Beyond financially planning for contingencies like a minor mishap or gotta-have-it impulse purchases, ask your hotel the right questions ahead of time:
Will my room be wheelchair accessible?
Is there a working elevator?
Does the pool area have a lift?
How wide are halls and door entries? Will a wheelchair or mobility scooter fit?
Is there a working ice machine to keep medicine cool? Are rooms available with mini-fridges for sensitive medication?
Ask your pharmacist what medicine alternatives are available if heading overseas -- just in case. Also, budget in the costs in case insurance won't cover expenses abroad.
Make a checklist of pertinent questions and avoid the siren song of discount rooms online -- do your homework and call before booking!
Let's Get Packing
Lay out your medicines and make a daily dosing protocol list to stay on top of them -- especially if traveling through multiple time zones in one day. Do you use medication that requires multiple accessories like insulin? The right kind of pouch, such as Medicool's Dia-Pak Deluxe Diabetic Travel Bag, has thoughtful features to help you organize up to two weeks' worth of supplies. Don't forget to pack items, such as the LifeScan Logbook Diabetic, that help you maintain a proper regimen despite the rigors of travel.
Hit the Road, Jack
The oil's been changed, wiper blades have been checked and the fossilized French fries have been vacuumed out -- the car's ready to roll; right? Maybe, but a few economical items will make the most of every road trip. Stander's Automobility Solution, for instance, features a clever swivel seat that enables occupants to twist and pivot in/out of a car. The kit also includes a handle that mounts tool-free to a vehicle's door latch for additional stability during vehicle ingress/egress.
Between convenience store pizza and 64-ounce fountain drinks, sickness and gotta-go moments can strike anyone -- at any time. Keep your vehicle's interior pleasant and sanitary with conveniences such as a Car Sick Kit with a special bag that locks in odors or NuHope's Travel Urine Collector that aids ostomy and catheter users when rest stops are few and far between.
By Air
Major U.S. airlines are very sensitive to passengers traveling with a Portable Oxygen Concentrator. However, there are a few guidelines they, and we, like to remind passengers of:
Battery life -- Oxygen Therapy patients must have a battery life that is equal to 1.5 times (or 150%) of the scheduled flight time. This ensures that portable oxygen concentrators have power for unexpected delays or diversions.
Ask, ask, ask -- Before booking, call your carrier's customer service division to ask about special protocols they may have for on-board oxygen concentrator use.
If traveling internationally, Vitality Medical advises you to check with us or your machine's manufacturer about overseas usage because this may void the factory warranty. Select machines may not be compatible with European- or Asian-market power outlets and may require an additional adapter or alternative plans if overseas usage is impossible.
If taking your oxygen concentrator on the road or overseas isn't a possibility, Vitality Medical has a rental program that supports your wanderlust. Several different brands are available and dedicated Oxygen Concentrator Specialists will provide support and oversee shipping logistics.
All Roads Lead to...
Several clever mobility accessories support all travelers, provide stability and discreetly tuck away once you reach your destination.
Visiting a relative without a ramp? No sweat! A travel-ready wheelchair/scooter ramp from Drive Medical will put everyone at ease, protect your host's home and let you focus on visiting. Several innovative walking aids out there help you make the most of tours, museums and gallery strolls. These include Medline's Folding Aluminum T-Handle Cane that cane that folds into a compact, ready-to-store unit when you reach your destination. Another handy item is Mountain Properties' Elite Walking Cane that features a fold-out seat with three legs for stability, making sure you always have a place to rest.
Spring's arrival means you'll likely be off to see dads and grads, so make sure you're ready. A little planning ahead of time means a physical disability or illness won't stop you from enjoying our big, beautiful world!
To a life full of Vitality!
Tranquility EliteCare Briefs
Tranquility EliteCare Review Video (5:00 minutes)

Transcript of Tranquility EliteCare Video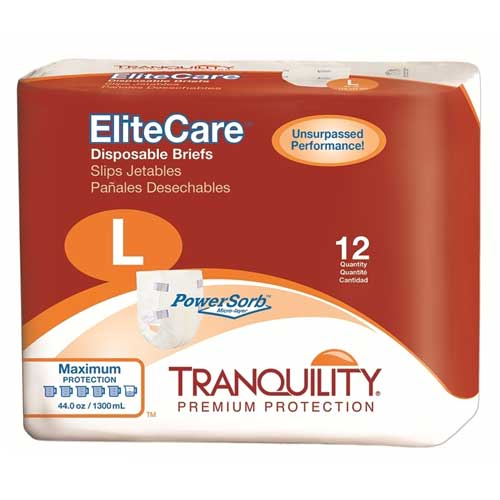 Hello, we are here today to test the outrageous claims of Tranquility about their new EliteCare briefs. These briefs are being marketed as the "All Day – All Night – All Solutions Brief!"
Tranquility claims that these highly absorbent briefs can take up to 44 ounces of liquid.
That's right, 1.375 quarts, 1.3 liters, or 5.5 cups of fluid!
That my friends, is a lot of liquid! Graphically, 5.5 cups looks like this in the Tranquility EliteCare brochure.
Note on this chart that regardless of the size of the brief, it will hold 5.5 cups of fluid.
These briefs have the following features and benefits:
PowerSorb Micro-layer – increases absorbent capacity without adding extra bulk to the brief.
Ultra-thin, ultra-dense, non-pulp retention layer – draws fluid in and retains it, not allowing fluid to be forced out even under pressure. This feature keeps fluid away from your skin to keep you drier and reduces odor. Fluid is also pH neutralized, inhibiting harmful bacterial growth.
Cloth-like outer layer with micro-hook closure tabs - provide for closure around the body and is readjustable.
Kufguards - or inner leg cuffs channel fluid into the core, helping to contain high volume urge episodes and bowel incontinence.
Dual wetness indicator – that turns from yellow to blue when moisture is present, thus eliminating unnecessary changes and reducing costs.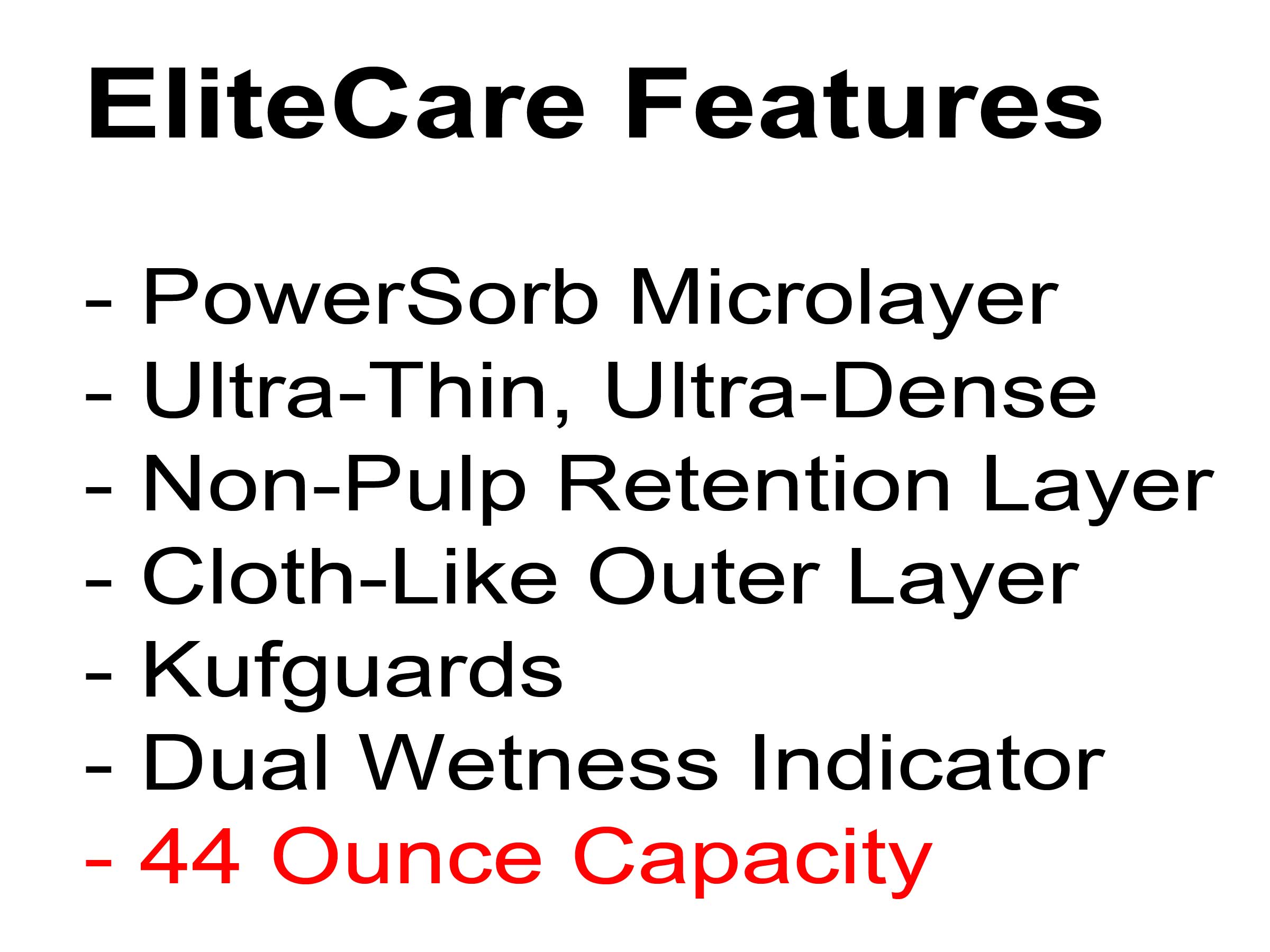 In summary – Tranquility EliteCare Briefs offers an increased level of absorbency to accommodate individuals' needs for more protection and extended wear-time. Extended wear-time also allows for uninterrupted sleep, keeping appointments and confidence to travel, all without compromising skin integrity.
We have a volunteer test subject here to demonstrate the high capacity of this incontinent brief.
Meet Reggie everybody. Reggie has volunteered to be our "test dummy" for this project. We want to assure you right from the start that no mannequins will be harmed in the filming of this video. How do you feel about that Reggie?
As you can see, Reggie has a fantastic poker face.
To begin with we will place the brief over the area where Reggie is prone to spring a leak.
One of the key tests of this project is to see if leaks develop around the areas where the legs join the torso where most briefs tend to fail.
Now we will use this small funnel to direct the fluid to the center of the protective brief.
Now this funnel does have a little oil smeared on it from my last oil change on the car, but you won't mind that will you Reggie?
Great poker face!
OK that is now five and ½ cups of water and still no leak.
As you can see from the results of this test, the outrageous claims of Tranquility about the absorbency of their incontinence products is actually factual. That is probably why Tranquility products are rated #1 by caregivers and medical professionals.
This concludes our test of the new Tranquility EliteCare--All Day – All Night – All Solutions Brief. Now its time to change Reggie's brief. Who's turn is it to change Reggie this time? Burt, Adam, common I did the last one…..
It's National Kidney Month! Which means there's no better time to talk about that incredible pair of bean-shaped organs stored away in the back of the abdomen. While they may be small, the kidneys are always hard at work. So active, in fact, that all of the blood in our bodies passes through the kidneys several times each day. In doing so, the kidneys remove excess wastes, help to control the body's fluid balance, and regulate electrolytes (the minerals in your body that help keep you charged throughout the day).
Why is kidney health so important?
Kidney function is integral to living a healthy and vital life. In addition to the aforementioned functions, one in three Americans are at risk of developing kidney disease due to high blood pressure, diabetes, or a genealogical history of kidney failure. Of course, you might not fall into any of those categories, but it's still absolutely crucial to make sure that those little fist-sized organs are in good working order.
Below you can learn more about different ways to benefit your kidneys, while making sure to check in with your doctor about what may be right for you and your lifestyle.
It's widely known that your health is largely affected by your diet and the amount of exercise you get. Your kidney health is no exception. For starters, stay hydrated. But be careful, because there is such as thing as over-hydration. Stick with the recommended four to six glasses a day. Any more could actually be harmful.
Speaking of diet, if you have Chronic Kidney Disease (CKD) or other kidney problems, you may need to make some changes in your eating habits. Your kidneys are rather durable; however, a lot of kidney problems arise out of other medical conditions, such as high blood pressure or diabetes, which are largely affected by diet. There are several foods, or "super foods," as it were, that researchers have found to be very beneficial for those with these conditions that can also help to control weight and blood pressure, and in turn, keep the kidneys in good shape. Foods high in antioxidants, fibers, and vitamins, such as red bell peppers, onions, apples, cauliflower, and berries, can help to neutralize free radicals, protect the body, and make for a rich and overall balanced renal diet.
Boost It!
One common result of renal failure is malnutrition. To compensate, Pro Stat Renal Care is a rich, enzyme-hydrolyzed protein formula available in a ready-to-drink shake that helps to manage blood levels of albumin, protein energy, and bowel regularity. Another great option is Renalcal Nutritional Supplement. Renalcal is dense in calories, low in protein and electrolytes, and is an excellent way to decrease fat mal-absorption. It comes ready-to-use and can be served either via tube feeding or oral supplement.
If you have diabetes, be mindful of your blood glucose levels and do your best to keep them under control. TrueBalance Blood Glucose Monitors by Invacare, for instance, are a great tool for monitoring your blood sugar and glucose levels in your blood. If you find yourself in a pinch, and need a quick carbohydrate boost, Glucose Tablets by Can Am Care provide fast-acting carbs without any of the unnecessary fat or sodium typically found in a lot of carbohydrate-rich foods.
It's a Bird! It's a Plane! It's... Super Foods!
So what are these "super foods," you ask? Many kidney-friendly foods, such as cabbage, cauliflower, garlic, and raspberries, contain natural antioxidants that can help to protect against oxidation. These are especially beneficial for dialysis patients and individuals with CKD. Red bell peppers, for instance, are delicious, low-potassium vegetables that are an excellent source of vitamins A, B6, and C, folic acid, and fiber.
DaVita has a convenient list of 15 Healthy Foods For People With Kidney Disease. For any further helpful tips on ways to incorporate these super foods into your renal diet, consult a renal dietitian. They can give you plenty delicious and easy recipes to get you on the right track to a well-balanced, three-meals-a-day diet that will keep your kidneys happy.
Watch Out!
Medications are obviously another way to stay healthy and happy. What a lot of people underestimate, however, is that with kidney disease comes greater risks and side effects from a lot of medications, even with those bought over the counter. Medications are filtered by the kidneys, so naturally, they are the organ at greatest risk for some of these negative effects. Not only that, but when your kidneys aren't working properly, medications can easily build up, causing your body a lot of damage.
Several pain medications, such as acetaminophen, can reduce blood flow to the kidneys. Even antibiotics and antiviral medications pose a greater risk with kidney disease, so it is crucial that you are aware your how your kidneys are doing when taking these medications. If you are on any sort of cholesterol or diabetes medications, talk to your doctor about adjusting the levels to compensate with your kidneys' level of health. Another group of medications to be careful with is antacids. These can easily disrupt the body's electrolyte balance in individuals with CKD.
New adaptations in life aren't always easy. Hopefully you now feel better informed when it comes to the health of your kidneys and are on the way to a life full of vitality!
Kidney Health Resources: