Swipe to the left
March 2016
What is an oxygen refill system?
Oxygen Cylinder Refill Stations are also known as oxygen transfill systems or homefill oxygen devices. Oxygen refill stations are portable oxygen cylinder refill devices used at home to fill empty oxygen tanks. These oxygen refill machines utilize concentrated oxygen extracted from room air using oxygen concentrator technology. ReFill systems pressurize the concentrated oxygen to fill empty oxygen tanks. This allows you to safely refill oxygen cylinders within your own home, providing you with unlimited, refillable oxygen. Oxygen therapy patients can obtain more freedom to come and go as they please and no longer need to depend upon a local oxygen vendor to refill their empty oxygen tanks.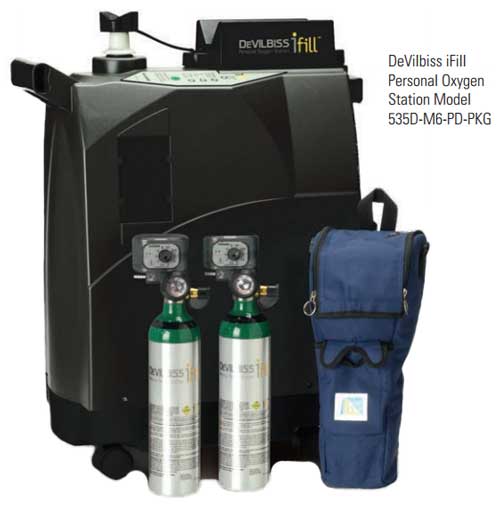 Why use an oxygen refill system?
The ability to fill oxygen cylinders at home provides greater independence and freedom for oxygen patients. Home oxygen eliminates time-consuming and costly service calls often associated with oxygen tank pickup and deliveries. By filling your own oxygen tanks, you control your own schedule and are not dependent upon a third party. Come and go as you please, knowing that another filled oxygen cylinder is always ready for use.
When can you use an oxygen refill system?
Empty oxygen cylinders may be refilled while you sleep, while you are away shopping or anytime that you have an empty cylinder that requires refilling. You can refill empty oxygen tanks day or night. Just place the cylinder in the refill machine and turn it on. When the cylinder is refilled you can start using it or place it in reserve for when you are ready. With your own oxygen refilling station, you no longer have numerous empty oxygen tanks lying around waiting for the local oxygen vendor to come by to pick them up. An oxygen refill system gives you more freedom and choices and allows you to work your own schedule independent of third parties
Where can you use an oxygen transfill system?
Oxygen refill stations can be used at home, the office, an RV or even a boat. Where ever you have access to a 110-120 volt AC electrical system, you may refill oxygen tanks. Just plug it in and turn it on!
Who makes oxygen transfill stations?
Currently three manufacturers produce home oxygen refill systems. These manufacturers are Invacare, Respironics and Drive Medical/DeVilbiss.
The Invacare HomeFill Compressor was the first oxygen transfill device for home use. The HomeFill has been around for nearly a decade and is the most well know home and most popular oxygen refill compressor. The HomeFill is a multi-stage pump that compresses oxygen from an oxygen concentrator to refill empty oxygen cylinders. Invacare also manufactures oxygen concentrators and other respiratory devices.
A few years ago, DeVilbiss developed the iFill Personal Oxygen Refill Station. The iFill offers the added advantage of having a built-in oxygen concentrator rather than depending upon a separate oxygen concentrator to supply the tank compressor with oxygen. Additionally, the iFill is equipped with a large cylinder release ring designed for individuals with limited dexterity. Combined with a low price, the iFill offers a great solution for home oxygen therapy patients who want to refill their oxygen cylinders at home.
The Purefill can operate with any oxygen concentrator that has a transfill port and produces an oxygen concentration greater than 90%, making it compatible with the Pure Oxygen Concentrator, Respironics EverFlo, the Invacare Perfecto 2 or the Platinum 10. This transfill device operates at 55 decibles of noise and comes with a 3 year warranty. Weighing 35 pounds, the PureFill can fill an empty M6 oxygen clinder in 80 minutes.
New on the scene is the Respironics UltraFill. Respironics has had some time to size-up the competition and develop an oxygen refill system that features many advantages above the current market offerings. For example, empty oxygen cylinders can be placed on the UltraFill with just one hand. Oxygen cylinders are easy to connect and disconnect for people of all ages. Its intuitive design makes it easy to use and requires less service to maintain. This refill system automatically detects whether the cylinder is a 2,000 or 3,000 psi cylinder and adjusts accordingly. Cylinders that are partially full can be topped off. The advanced performance and operating factors discussed below make the UltraFill an excellent choice.
How do the four home oxygen refill stations compare?
All four transfill systems are somewhat similar. They all come with a 3 year warranty and three can operate to at least 6,000 feet above sea level or higher. (No data from Drive Medical is available for the maximum operating altitude for the PureFill.) All can provide oxygen concentration of 90% or higher. All three can refill an M6 size oxygen cylinder in 80 minutes or less. Three of the four refill machines require proprietary cylinders to refill. The PureFill, according to Drive Medical, may be used to refill any M4, M6, M9 and D cylinders. Although similar in many ways, there are differences.
The Size Difference
The DeVilBiss iFill is the largest machine, but it also has a built-in oxygen concentrator. If you add in the size of an oxygen concentrator to the other two refill stations, the iFill will be the smallest size. The Invacare HomeFill is the most lightweight at 33 pounds. The Respironics UltraFill has the smallest size without factoring in the size of an oxygen concentrator.
Size Comparison
Invacare
HomeFill
DeVilbiss
iFill
Drive Medical
PureFill
Respironics
UltraFill
Width (inches)
20.25
12.25
23
20
Length (inches)
15
28.5
22
9
Height (inches)
16
22.5
8
25.5
Total Cubic Inches
4,860
7,855
4,048
4,590
Weight (pounds)
33
66
35
45
The Performance Difference
Both the iFill and the UltraFill provide oxygen concentration levels between 90 to 96%. Invacare only provides the specification that the HomeFill offers an oxygen concentration level of 90% and above. The UltraFill provides the highest operating altitude at 7,500 feet above sea level while the iFill comes in second at 6,562 feet.
Performance Comparison
Invacare
HomeFill
DeVilbiss
iFill
Drive Medical
PureFill
Respironics
UltraFill
Oxygen Concentration
90% or higher
90 to 96%
90% or higher
90 to 96%
Operating Altitude
6,000
6,562
N/A
7,500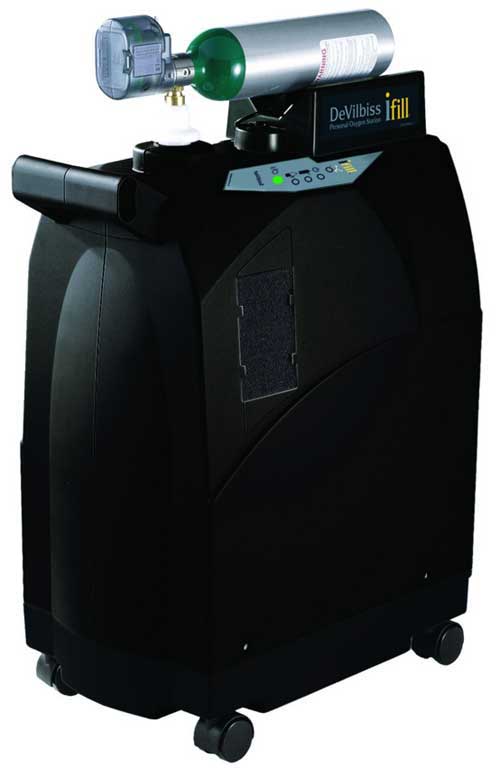 The Operating Factors Difference
In this comparative category, the Respironics Ultrafill makes a clean sweep. It emits the lowest noise level of 44 decibels, consumes the least amount of power at 110 watts while producing the highest maximum pressure of 3,000 PSI. The Ultrafill refills the M6 oxygen cylinder in 65 minutes--10 minutes less than the iFill or the HomeFill.
Operating Factors Comparison
Invacare
HomeFill
DeVilbiss
iFill
Drive Medical
PureFill
Respironics
UltraFill
Noise
NA
50
55
44
Power Consumption
200
400
110
110
Refill Time (Minutes to Fill M6 Cylinder)
75
75
80
65
Maximum Pressure (PSI)
2,000 ± 100
2,250
2,000
3,000
The Compatibility Difference
All three manufacturers recommend using only their own proprietary oxygen cylinders with their oxygen refill systems. Invacare and Respironics also recommend only using their own 5 liter and above oxygen concentrators with their refill systems. The DeVilbiss iFill does not need an additional oxygen concentrator.
The Dependability Difference
The Respironics UltraFill comes with a 3 year warranty. The DeVilbiss iFill also comes with a 3 year warranty but is limited to 3,000 hours of operation. The Invacare HomeFill comes with the shortest warranty of 1 year on the compressor and 3 years or 5,000 hours on parts and labor on internal wear components and control panel components.
Special Features Difference
The UltraFill has the capability of refilling both 2,000 PSI oxygen cylinders as well as 3,000 PSI cylinders. The iFill and HomeFill can only refill 2,000 PSI cylinders. The iFill has its own internal oxygen concentrator while the HomeFill and the UltraFill require a separate purchase of a home oxygen concentrator of 5 liters or more to supplement their oxygen refill device. The iFill comes with a user-friendly, large cylinder release ring designed for individuals with limited dexterity. The release ring requires very little pressure to depress, making it easy to install and remove oxygen cylinders.
Ranking the Home Oxygen Refill Machines
Invacare HomeFill
#1 Lowest Weight
DeVilbiss iFill
#1 Stand alone unit, requires no oxygen concentrator
#1 Tied for highest oxygen concentration levels
Drive Medical PureFill
#1 Smallest Size
#1 Tied for lowest power consumption
#2 Low weight
Compatible with any M4, M6, M9, or D cylinder
Respironics UltraFill
#1 Tied for highest oxygen concentration levels
#1 Highest operating altitude capability
#1 Lowest noise
#1 Lowest power consumption
#1 Fastest refill time
#1 Highest pressure capability, can refill 3,000 psi tanks
#1 Best warranty, 3 years with no maximum hours
#2 Small Size
#2 Low Weight
Ranking Summary
The Respironics UltraFill runs away from the competition with many number 1 rankings. The features of the UltraFill and its performance are remarkable. But, it is also the highest priced transfill system and requires a separate oxygen concentrator in order to function, making it even more expensive. While offering the best performance and best operating factors, the UltraFill is challenged by the stand alone capability of the DeVilbiss iFill. The iFill is also priced significantly lower than the UltraFill. When adding the price of an oxygen concentrator to the already high price of the UltraFill, it is likely that most consumers will choose the iFill over the UltraFill on the basis of value.
Below is a chart that shows the specifications for each transfill station and provides a side-by-side comparison. Highlighted cells depict category leaders.


Transfill Comparison Chart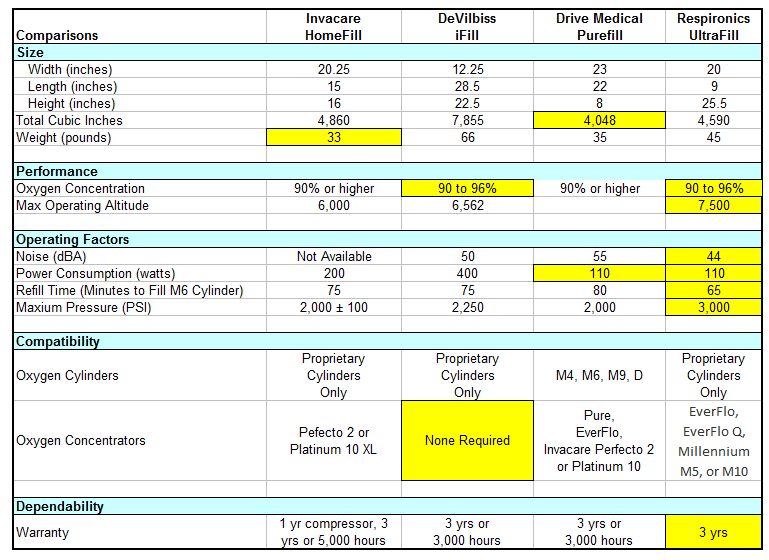 Dense as a block of tofu, yet capable of producing the amount of bio-electricity that powers an LED light bulb, the human brain is delicate, yet incredibly powerful. This is why Brain Awareness Week prompts millions to seek ways to invigorate and nourish this marvelous organ.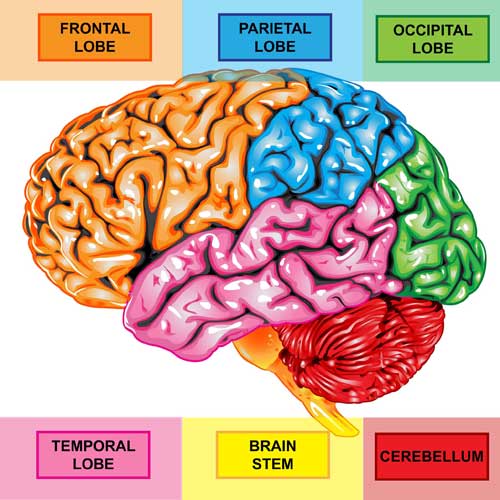 It's no surprise that diet and exercise are critical to brain health. After all, the human body is an amazing input/output system -- how we fuel our bodies is directly reflected in the performance and health we get out of them. What is surprising is how easy, and economical, it can be incorporate brain-boosting measures into your daily diet and routine. The Vitality Medical product team has amassed budget-friendly products that can be easily added to virtually any lifestyle.
Learn more below about these possible brain-boosters and talk to your physician about what may be appropriate for your lifestyle and diet.
Think before you drink!
Workload have you crashing? Think before you drink. That chemically engineered energy drink could send your heart into overdrive and cause your blood pressure to surge. Why bother? Mother Nature has had her own rock star all along: ginseng.
Revered for centuries in the Far East for its brain-, energy- and immunity-boosting properties, Western science has been studying what makes ginseng such a potent brain-booster: ginsenosides. Studies published by the National Institutes of Health are pointing the way toward the antioxidant properties of ginsenosides and their role in enhancing spatial learning and memory capacities. Popular among Vitality Medical customers is the Wisconsin-grown American Ginseng Supplement.
Loco For Coco?
Coconut oil is rich in healthy fatty acids (medium-chain triglycerides [MCT]) that are a secondary source of energy for the brain. Studies are even starting suggest a correlation between coconut MCTs, the energy they provide to repair brain cells and delaying brain aging. Most unrefined coconut oils, such as Spectrum's Organic Coconut Oil, can be added to smoothies or used for cooking. Best of all, there is minimal "coconut" flavor added to foods.
Mellow Yellow
Used in Eastern cooking and even art, turmeric a yellow spice is incredibly versatile. Long-known for its anti-inflammatory properties, medical scientists are turning to turmeric (and its active compound, curcumin). Turmeric contains the compound Ar-turmerone, which may play an important role in fighting neurological diseases. Research has also found that extracts of the compound besin found in Ar-turmerone may help stem cells grow into neurons or other cells. This aids in brain repair. Because turmeric's aromatic, peppery and slightly pungent flavor may not appeal to all, products like Nature's Way Turmeric Capsules simplify working turmeric into your diet.
Break. Fast.
While there's a tremendous focus on the benefits of supplements, it's all too easy to overlook the bedrock of a well-balanced diet: breakfast. After sleep, your brain needs a kickstart, with proteins and fats. Unfortunately, oversleeping, dawdling kids and remote-access email trump breakfast. However, there are rapid workarounds, such as Carnation Instant Breakfast that provide your brain with the energy necessary to help you be your best.
Sleeping is a Beauty
Not all brain-boosters come in oils or capsules. The U.S. Department of Health and Human Services recommends adults gets between 7-8 hours each night, giving your brain the time to reboot. Getting this amount is easier said than done, but incorporating a few simple items may help make the most of shut-eye time. A lavender-infused Bed Buddy Mask can block out light and help lull you to sleep. Bunkmate's snoring disturbing your slumber? You, as well as he or she, may benefit from a No-Snore Cervical Pillow Cushion that cradles the head perfectly to keep nasal passages open to fight snoring.
Work it!
Exercise helps oxygenate the brain to keep it alert and nourished, while stimulating hormone production to keep it healthy. Just like sleep, however, it can be very difficult to work exercise into modern schedules. This led the development of a new breed of easy-to-move exercisers, such as the Exercise Peddler with Handle by Drive or Pedal Exerciser that fits right under your work desk. Another sly way to fit some exercise into your day is the Overdoor Exercise Pulley. The doorframe-mount system enables you to sit or stand while you increase your range of motion -- breathing deeply while doing so will help stimulate your circulation, revitalizing your entire body (including the brain).
Friends Fight Brain Drain
Researchers at the University of Michigan investigated the benefits social interaction may have on mental functioning. Study participants' cognitive capabilities were contrasted against how often they socialized. The findings: those who were more social showed higher levels of cognitive performance -- the stronger their social network, the smarter they were. What's this mean? Time to pick up the phone! Schedule an outing, lunch or a movie night with friends. Stay in touch while on the go to keep your brain in the game with tools such as the Bierley BM-01 Big Button Cell Phone.
There you have it, 10 easy ways to nourish, protect and refresh your brain -- stay sharp for years to come. Make sure you clear any type of exercise program or nutritional changes with your doctor to keep you (and your brain) happy and healthy.
To a life full of Vitality!
Seasonal Affective Disorder, or SAD, is a seasonal depression that afflicts more than 3 million people in the U.S. alone. SAD is characterized by depression, changes in appetite, sleep changes, an inability to concentrate and even weight gain.
Never fear, if you are experiencing the symptoms of seasonal affective disorder, there is hope. Firstly, it is temporary. SAD is seasonal disorder that usually lasts about three months, but don't worry, you don't have to wait it out. There are several treatments available for seasonal depression, including:
Light Therapy
Physical Exercise
Sleep Therapy
Dietary Changes
Massage
Medication
We will discuss the top ten products available at Vitality Medical that will help you combat these symptoms and increase your overall wellness. Light Therapy
Light therapy is one of the most common treatments of SAD, and it's pretty easy to do too. Light therapy is the addition of natural sunlight into your daily routine. The most popular light therapy products are natural light bulbs, such as the Verilux Full Spectrum Natural Light Bulbs. Natural light bulbs are an easy way to incorporate natural sunlight into your day.
A close second in the popularity contest of light therapy treatments is the SunLight Bright Therapy Lamp by Carex. Light therapy lamps are designed to sit on a desk or table. Simply sit in front of the lamp for a prescribed length of time. Treatment times can range from 15 minutes to two hours, so be sure to follow the instructions provided by your doctor. Since these lamps are portable, you can easily fit the treatment in your regular workday, while cooking dinner, or any other activity that requires you to sit or stand near a desk or table.
Physical Exercise
Another treatment for seasonal affective disorder is exercise that leaves you with a sense of wellbeing, such as yoga. Make this exercise part of your weekly schedule for maximum benefits. The ThinkSport Yoga Mat is a popular product to help get your fitness routine started. Combine with Aromatherapy oils for maximum mood-lifting benefits.
Sleep Therapy
There are several types of sleep therapy that are recommended for SAD, the most popular of which is chronotherapy. Chronotherapy is a combination of sleep scheduling and sleep deprivation, which studies have shown, have a long-term anti-depressant effect. Talk to your doctor if you think chronotherapy may be right for you.
Dietary Changes
Simple additions to your normal diet could make big changes in your mood, wellness and vitality. The addition of foods that contain Melatonin and Omega-3 fatty acids has been shown to decrease the symptoms of seasonal affective disorder. Some foods that have a large amount of melatonin are:
Sour Cherries or Sour Cherry Concentrate
Mustard Seed
Corn
Rice
Some foods with a large amount of Omega-3's are:
Certain Types of Fish
Eggs
Milk
Flaxseed
Brussels Sprouts
Perhaps you dislike every food in the above lists, not to worry; you can also add supplements to your diet to get similar health affects. The most popular supplements at Vitality Medical that treat with these nutritional benefits are the Natrol brand Omega-3 Softgels and Melatonin Tablets by Gemini Pharmaceuticals.
Massage Therapy
Massage is a great way to relax and sooth muscles and mind. Massage lotions have positive effects on the skin, as well as create a smooth surface for massaging. The Massage Lotion by Master Massage is the most popular. Master Massage products are made in the USA and no animal testing is used. For self-massage, try the Conair Massaging Seat Cushion. This cushion fits in a car seat or lounge chair, so you can get the benefits of massage without having to make any additional time in your day.
Medication
Another option for treating SAD is medication. Anti-depressants and other medications have been prescribed to treat the symptoms of seasonal depression. Talk to your doctor if you think this option is right for you.
If you choose to take medication, you may need some help managing your medication regime. The most popular product for helping manage your medication schedule is the Deluxe Pill Organizer by Health Enterprises. For assistance splitting your medication, try the Plastic Pill Splitter by Medline.
You may try many therapies to find the one, or a combination, that works best for you. For additional information on seasonal affective disorder and its treatments, see the resources section below.
Resources
Mayo Clinic: http://www.mayoclinic.org/diseases-conditions/seasonal-affective-disorder/basics/definition/con-20021047
Web MD: http://www.webmd.com/mental-health/tc/seasonal-affective-disorder-sad-topic-overview
http://www.webmd.com/diet/guide/your-omega-3-family-shopping-list
Positive Health: http://www.positivehealth.com/article/aromatherapy/aromatherapy-for-seasonal-affective-disorder-sad
Medscape: http://www.medscape.com/viewarticle/840191
Immune Health Sciences: http://www.immunehealthscience.com/foods-with-melatonin.html